The Los Angeles Philharmonic and Music & Artistic Director Gustavo Dudamel, together with Platoon, to release new album Fandango
Available on the new Apple Music Classical and other streaming platforms from September 15, 2023
Fandango features Alberto Ginastera's Estancia and the world premiere recording of Arturo Márquez's Fandango, performed by superstar violinist Anne Akiko Meyers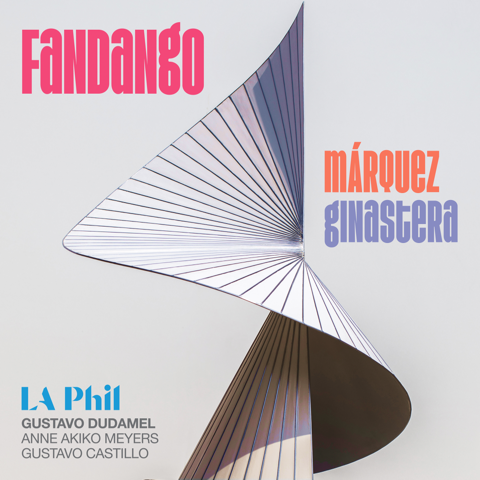 LOS ANGELES, CA, Thursday, September 7, 2023 — Platoon and the Los Angeles Philharmonic (LA Phil) announce the release of Fandango, a new album featuring the LA Phil and Music & Artistic Director Gustavo Dudamel performing Alberto Ginastera's Estancia and Arturo Márquez's new violin concerto Fandango, with violinist Anne Akiko Meyers. The works were captured live at Walt Disney Concert Hall in October 2022 and May 2023. Fandango will be released globally on streaming platforms, including Apple Music Classical, Apple's new standalone app wholly dedicated to classical music lovers, on September 15.
The new collaboration will increase the already prolific global reach of the LA Phil and Gustavo Dudamel. The renowned pairing are part way through their Pan-American Music Initiative—a 5-year project exploring more than 30 new commissions and numerous creative partnerships, emphasising the importance of Latin American heritage—a vital part of Dudamel's life's work. The dynamic conductor is known for his deep belief in the power of music as a force for social change. Through his extensive work within Latin American communities, he has used music as a means of profound social transformation—it is never merely viewed as entertainment. Part of Dudamel's legacy is his advocacy of neglected or rarely performed music by Latin American composers. The repertoire on this album is by composers that the Venezuelan maestro has supported throughout his career.
Dudamel helped cement the reputation of the Mexican composer Arturo Márquez with his championing of Danzón No. 2. Fandango features the world premiere recording of Márquez's Fandango, a powerfully energetic concerto for violin and orchestra in three movements, commissioned by violinist Anne Akiko Meyers. The fandango is known worldwide as a popular Spanish dance, appearing in the 18th century in Spain and moving to the Americas, where it acquired a personality according to the land that adopted and cultivated it. Márquez was familiar with this music since his childhood and says, "For centuries it has been a special festivity for musicians, singers, poets and dancers. Everyone gathers around a wooden platform to stamp their feet, sing and improvise décimas for the occasion." Anne Akiko Meyers embodies this celebratory atmosphere in the performance captured here, partnered with verve by the LA Phil and Dudamel.
"In 2018, after hearing Danzón No. 2, music that made my heart and soul dance, my dream for a mariachi-inspired violin concerto was reignited," said Akiko Meyers. "Soon after, I approached the great Arturo Márquez, and he shared with me that his late father was a mariachi violinist and he was waiting to write this music that stirred in his heart for decades."
Meyers continued, "Fandango was soon born when I gave the world premiere at the Hollywood Bowl in 2021, with the Los Angeles Philharmonic, Gustavo Dudamel conducting (and dancing). The joyful, soulful music has thrilled audiences from Mexico City to Carnegie Hall, and this live recording will undoubtedly touch your heart and make you fall in love with his music, much like I did."
Also included on the album is Argentine composer Alberto Ginastera's complete ballet Estancia, Op 8, another work that pays homage to the land from which it originates. The composition pulses with life, and a wildness, enchantingly juxtaposed with a beautiful Gaucho dance. This recording features the rich-voiced baritone Gustavo Castillo as both narrator and soloist.
Gustavo Dudamel says "Sharing the extraordinary music of Latin American composers has been a part of my musical mission since the very start, and this new album with the LA Phil is a beautiful expression of two of Latin America's greatest talents: Argentina's Alberto Ginastera and Mexico's Arturo Márquez.
"Ginastera's ballet Estancia is a musical representation of the Argentine gaucho, the cowboys of the South American plains, and it speaks to both the beauty and the challenges of that land. And my wonderful friend Arturo Márquez's Fandango, which we gave the premiere of in 2021, is a love letter to the dance music of Sonora Mexico. For centuries, the fandango has been one of the more popular Latin dances in the repertoire and has been performed in dance halls across the world (Arturo and I have been dancing in many of these halls ourselves!), it has become almost like the heartbeat of Mexican culture.
"These works represent the rhythm and soul of Latin America, and I'm so proud to release them in partnership with Platoon, who are at the cutting edge of exploring new and exciting ways to share recorded music with the world."
"We are delighted to be partnering with Platoon on the release of Fandango, featuring the work of composers Arturo Márquez and Alberto Ginastera," said Meghan Umber, Chief Content Officer at the Los Angeles Philharmonic. "LA Phil Music & Artistic Director Gustavo Dudamel has championed the work of Latin American artists from the start of his career and, in the process, has reshaped American orchestral repertoire. Through our collaboration with Platoon, we are able to build on Dudamel's border-transcending and inclusive vision by making the music of these Latin American musical giants available to all."
Denzyl Feigelson, CEO and co-founder of Platoon says "Platoon has been building an increasingly dynamic classical roster, and we couldn't be more excited to welcome the LA Phil and Maestro Dudamel to the family. We are immensely proud to partner with this trailblazing organization and their dynamic Music & Artistic Director. Their tireless advocacy and belief in the power of classical music, both in the core canon and in showcasing the vibrancy and talent of Hispanic composers, really resonated with our ethos to amplify musical voices around the globe."
https://platoon.lnk.to/fandango
Arturo MÁRQUEZ Fandango
Soloist: Anne Akiko Meyers, violin
Alberto GINASTERA Estancia,Op. 8 (complete)
Baritone/Narrator: Gustavo Castillo
Los Angeles Philharmonic
Gustavo Dudamel, Music & Artistic Director
About the LA Phil  
Under the leadership of Music & Artistic Director Gustavo Dudamel, the LA Phil offers live performances, media initiatives and learning programs that inspire and strengthen communities in Los Angeles and beyond. The Los Angeles Philharmonic orchestra is the foundation of the LA Phil's offerings, which also include a multigenre, multidisciplinary presenting program and such youth development programs as YOLA (Youth Orchestra Los Angeles). Performances are offered on three historic stages—Walt Disney Concert Hall, the Hollywood Bowl and The Ford—as well as through a variety of media platforms. In all its endeavors, the LA Phil seeks to enrich the lives of individuals and communities through musical, artistic and learning experiences that resonate in our world today. 
About Gustavo Dudamel
Gustavo Dudamel is driven by the belief that music has the power to transform lives, to inspire, and to change the world. Through his dynamic presence on the podium and his tireless advocacy for arts education, he has introduced classical music to new audiences around the globe and has helped provide access to the arts for countless people in underserved communities. Dudamel currently serves as Music and Artistic Director of the Los Angeles Philharmonic and Music Director of the Simón Bolívar Symphony Orchestra, and in 2026, he becomes the Music and Artistic Director of the New York Philharmonic, continuing a legacy that includes Gustav Mahler, Arturo Toscanini, and Leonard Bernstein.Dudamel is one of the few classical musicians to become a bona fide pop-culture phenomenon. His film credits include Steven Spielberg's adaptation of Bernstein's West Side Story, Star Wars: The Force Awakens, and The Simpsons, and he led the LA Phil with Billie Eilish in the concert film Happier Than Ever: A Love Letter to Los Angeles. He has performed at the Super Bowl halftime show, the Academy Awards, and the Nobel Prize concert, and has worked with international superstarsChristina Aguilera; Ricky Martin; Tyler, The Creator; Coldplay; and others. His extensive discography includes 67 releases and four Grammy Awards.Inspired by his transformative experience as a youth in Venezuela's immersive musical training program El Sistema, he created the Dudamel Foundation in 2012, which he co-chairs with his wife, actress and director María Valverde, with the goal "to expand access to music and the arts for young people by providing tools and opportunities to shape their creative futures." In July and August 2022, the Dudamel Foundation brought its Encuentros initiative to the Hollywood Bowl as part of the 100th-anniversary season, in a two-week intensive global leadership and orchestral training program for young musicians from around the world that culminated in a concert at the Hollywood Bowl and a tour with the Orquesta del Encuentro to the legendary Greek Theatre in Berkeley, CA.
About Anne Akiko Meyers
Anne Akiko Meyers is one of the most respected and admired violinists, collaborating with today's most important composers, championing their work and creating a remarkable legacy of new violin repertoire for future generations. Since her teens, she has performed around the world as soloist with leading orchestras and in recital and is a prolific recording artist with more than 40 releases, which are staples of classical music radio stations and streaming platforms. Anne has worked closely with Arvo Pärt (Estonian Lullaby), Einojuhani Rautavaara (Fantasia, his final complete work), John Corigliano (cadenzas for the Beethoven Violin Concerto; Lullaby for Natalie), Arturo Márquez (Fandango), Michael Daugherty (Blue Electra), Mason Bates and Adam Schoenberg (violin concertos), Jakub Ciupiński, Jennifer Higdon, Samuel Jones, Morten Lauridsen, Wynton Marsalis, Akira Miyoshi, Somei Satoh, and Joseph Schwantner. She has premiered new music with the symphony orchestras of Chicago, Dallas, Detroit, Los Angeles, Nashville, Pittsburgh, San Diego, Seattle, Washington D.C., Helsinki, Leipzig, London, and New Zealand, among others. Future commissions include a work for violin and orchestra by Eric Whitacre and New Chaconne by Philip Glass. John Williams personally chose Anne to perform Schindler's List for a Great Performances PBS telecast and the iconic Estonian composer Arvo Pärt selected her as the featured soloist for the opening concerts of his new centre and concert hall in Laulasmaa, Estonia. She performs on the Ex-Vieuxtemps Guarneri del Gesù, dated 1741, considered by many to be the finest sounding violin in existence. Visit www.anneakikomeyers.com for more info.
About Platoon
Founded by C.E.O. Denzyl Feigelson in 2016, boutique artist services company Platoon identifies and shepherds exciting musical talent from around the world, arming them with innovative tools and a platform to build their careers. Platoon landed its first success in 2016 when they signed yet-unknown Billie Eilish, helping lay the groundwork for her ascent to global stardom. Following that it was BRIT Award winner Jorja Smith's Blue Lights, before guiding Nigeria's Mr. Eazi to worldwide attention. Platoon's Classical division has since built an impressive roster of fiercely independent creative artists such as 12 Ensemble, Stella Chen, Kirill Gerstein, Daniel Pioro and Johannes Moser, as well as forging partnerships with landmark orchestras such as the Vienna Philharmonic and London Symphony Orchestra. Platoon's team of employees has expanded across the globe, from London to New York, Los Angeles, Berlin, and Cape Town's "Creative Lab". Platoon's creative spaces in London and Africa boast 24-hour recording studios and double as inspiring ecosystems for artists to openly collaborate, with Platoon also offering educational classes across music and marketing.