SUMMER 2023 FIREWORKS
AT THE HOLLYWOOD BOWL
The Game Awards 10-Year Concert, June 25
July Fourth Fireworks Spectacular with the Beach Boys, July 2-4
Tchaikovsky Spectacular with Fireworks, August 18-19
Fireworks Finale: Maxwell, Sept 8-10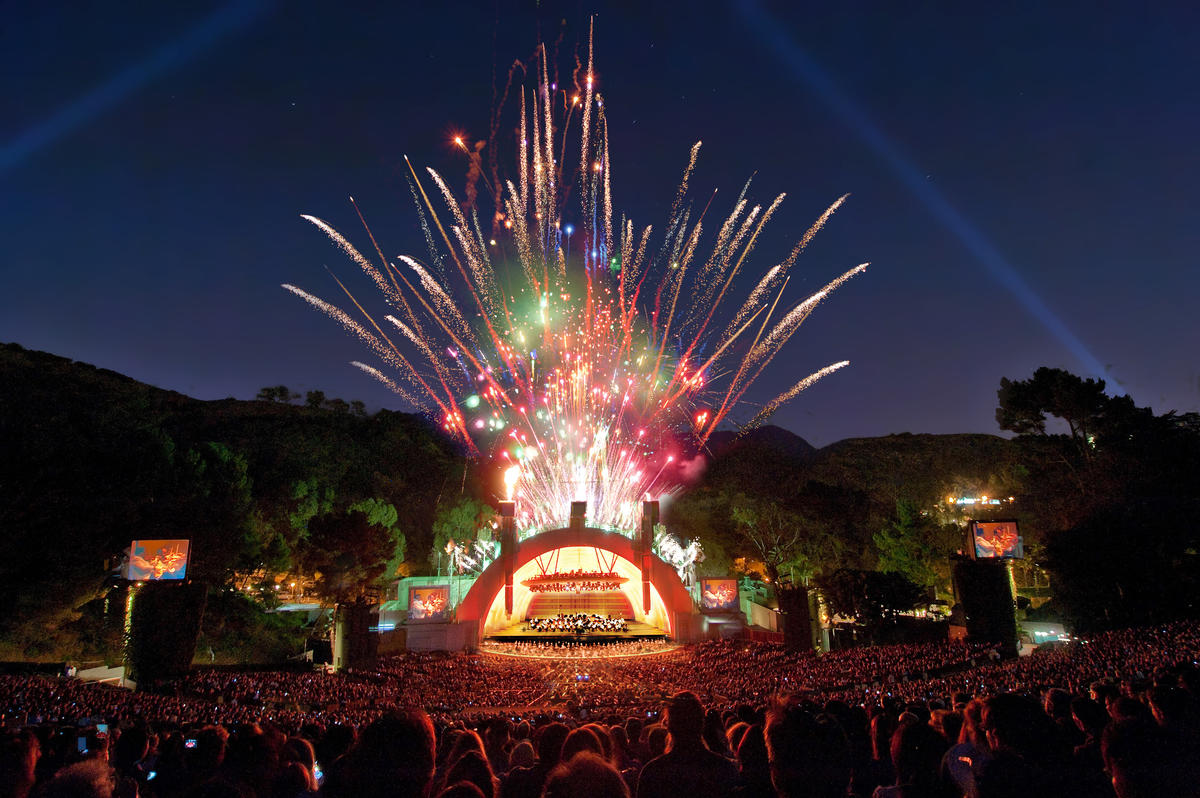 THE GAME AWARDS 10-YEAR CONCERT WITH FIREWORKS,
SUNDAY, JUNE 25, AT 8PM
https://www.hollywoodbowl.com/events/performances/2290/2023-06-25/the-game-awards-10year-concert-with-fireworks
This special live concert event celebrates the unforgettable role music plays in video games. Lorne Balfe leads the Hollywood Bowl Orchestra in music selections and suites from Arcane, Diablo,Elden Ring, Final Fantasy® XVI, God of War, Hades, Hogwarts Legacy, League of Legends, Marvel's Spider-Man, Starfield, Star Wars Jedi, The Last of Us, and live performances by Gustavo Santaolalla and Tenacious D.
Lorne Balfe,

conductor

Tenacious D,

special guest
JULY FOURTH FIREWORKS SPECTACULAR WITH THE BEACH BOYS,
SUNDAY-TUESDAY, JULY 2-4, AT 7:30 PM
https://www.hollywoodbowl.com/events/performances/2277/2023-07-04/july-fourth-fireworks-spectacular-with-the-beach-boys
With dozens of their chart-toppers becoming anthems of American youth—including "Surfin' USA," "I Get Around," and "Fun, Fun, Fun"—The Beach Boys will light up the night with the Hollywood Bowl Orchestra and our legendary fireworks.
John Stamos, special guest
TCHAIKOVSKY SPECTACULAR WITH FIREWORKS,
FRIDAY-SATURDAY, AUGUST 18-19 AT 8PM
https://www.hollywoodbowl.com/events/performances/2338/2023-08-18/tchaikovsky-spectacular-with-fireworks
One of the Hollywood Bowl's cherished traditions, the Tchaikovsky Spectacular returns with the engaging and affable Daniel Bartholomew-Poyser leading favorite selections, from Swan Lake to Romeo and Juliet. Chopin Competition winner Bruce Liu performs the triumphant,
heart-on-its-sleeve First Concerto, and it all comes to a climax when the USC Trojan Marching Band and fireworks cap off the night with the 1812 Overture.
FIREWORKS FINALE: MAXWELL,
FRIDAY-SUNDAY, SEPT 8-10, 7:30PM
https://www.hollywoodbowl.com/events/performances/2354/2023-09-08/fireworks-finale-maxwell
Three-time Grammy winner Maxwell sets it off in our Fireworks Finale, hooking his supple and soulful R&B—and three decades of hits—to elegant backing from his veteran touring band. Featuring Pink Sweat$ on Friday, SiR on Saturday, and Raveena to close out the weekend on Sunday.
Maxwell

Pink Sweat$

(Friday only)
SiR (Saturday only)
Raveena (Sunday only)
TICKETS
Tickets for the Hollywood Bowl 2023 summer season are available online at hollywoodbowl.com or via phone at 323 850 2000. Programs, artists, prices and dates subject to change. Ticket limits may apply.
Visit hollywoodbowl.com/safety for our latest concert safety protocols.
# # #
About the Hollywood Bowl
One of the largest natural amphitheaters in the world, with a seating capacity of nearly 18,000, the Hollywood Bowl has been the summer home of the Los Angeles Philharmonic since its official opening in 1922 and plays host to the finest artists from all genres of music, offering something for everyone. It remains one of the best deals anywhere in Los Angeles; to this day, $1 buys a seat at the top of the Bowl for many classical and jazz performances. In February 2023 the venue was named the Outdoor Concert Venue of the Year at the 34th Annual Pollstar Awards, an honor bestowed 15 previous times. The Hollywood Bowl was also named Amphitheater of the Decade at the 32nd Annual Pollstar Awards as well as Top Amphitheater at the 2017 and 2018 Billboard Touring Awards. For millions of music lovers across Southern California, the Hollywood Bowl is synonymous with summer. hollywoodbowl.com.