OPENING NIGHT AT THE HOLLYWOOD BOWL
KICKED OFF SUMMER SEASON
WITH GRAMMY WINNERS
JANET JACKSON: Together Again
WITH SPECIAL GUEST
LUDACRIS
Celebratory Evening Featured Members of
YOLA (Youth Orchestra Los Angeles)
Event Raised More than $3.4M
Benefiting the LA Phil and its Learning and
Community Initiatives
Special Thanks to Kaiser Permanente for its Generous Support of Opening Night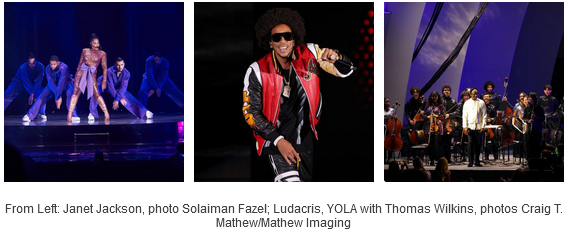 LOS ANGELES (June 12, 2023) – Saturday, June 10, Opening Night at the Hollywood Bowl kicked off summer with the return to the stage of celebrated music icon Janet Jackson with special guest Ludacris. The concert was also part of Janet Jackson's highly acclaimed 10th concert tour, Together Again, a two-hour reminiscence of her 40-year career, which featured hits such as "What Have You Done for Me Lately," "Nasty" and "When I Think of You." Sixteen young musicians representing all five YOLA (Youth Orchestra Los Angeles) sites made a guest appearance with Janet Jackson in "Again" led by conductor Thomas Wilkins.
The evening opened with rapper and actor Ludacris performing his hits, featuring a set by DJ Infamous and a special guest appearance from Lil' Fate. The evening ended with Janet Jackson's signature hit "Rhythm Nation" set to spectacular fireworks.
The Opening Night at the Hollywood Bowl benefit concert raised more than $3.4M for the LA Phil and its learning and community initiatives (including YOLA).
Attendees included Tracy Anderson, Lance Bass, Angela Bassett, Jordana Brewster, B.J. Britt, Jon Cryer, Tiffany Haddish, Lil Rey Howery, Bill Hader, Nigel Lythgoe, Jeremy Renner, Michelle Rodriguez, Larenz Tate, Gabrielle Union, Thomas Wilkins, Ali Wong, State Senator Hon. Ben Allen, State Assembly Speaker 62nd District Anthony Rendon, LA County Supervisors Kathryn Barger, Janice Hahn, Lindsey Horvath, Holly Mitchell and Hilda Solis; LA County CEO Fesia Davenport and LA County Department of Parks and Recreation Director Norma García-Gonzalez, among others. Also present were LA Phil Chair Thomas L. Beckmen and Interim LA Phil CEO & COO Daniel Song, David C. Bohnett Chief Executive Officer Chair.
EDITORS PLEASE NOTE:
Saturday, June 10, 2023, 8 p.m.
Hollywood Bowl, 2301 N. Highland Ave., Hollywood
Opening Night at the Bowl with Janet Jackson: Together Again
With special guest Ludacris
Members of YOLA (Youth Orchestra Los Angeles)
Thomas Wilkins, conductor
PROGRAM:
LUDACRIS
Intro (DJ Infamous)
Southern Fried Intro
Welcome to ATL
Act A Fool
Southern Hospitality (featuring special guest Lil' Fate)
Area Codes
Unpredictable
Lovers & Friends
Pimpin All Over The World
Glamorous
How Low
My Chick Bad
Money Maker
Fantasy
Stand Up
Yeah
All I Do Is Win
Move Bitch
Get Back
Intermission
JANET JACKSON: Together Again
Intro - Love Me
Dmita Jo
Together Again
Feedback
So Much Betta
If
No Sleep
Got 'til It's Gone
That's The Way Love Goes
Enjoy
Interlude 1
What Have You Done For Me Lately
Nasty
Pleasure Principle
Because of Love
When I Think of You
Diamonds
Best Things
Control
When We Ooh
Together Again
Come Back to Me
Let's Wait / Lonely
Again (with musicians from YOLA, conducted by Thomas Wilkins)
Anytime Anyplace
I Get Lonely
Interlude 2
Doesn't Really Matter
All For You
Come On Get Up
Freexone/Throb
Girlfriend Boyfriend
Like You Don't Love Me
Do It To Me
New Song
So Excited
Band solos
Knowledge
Miss You Much
Love Will Never Do
Alright
Escapade
Scream/Black Cat
Rhythm Nation (with fireworks finale)
Encore - Together Again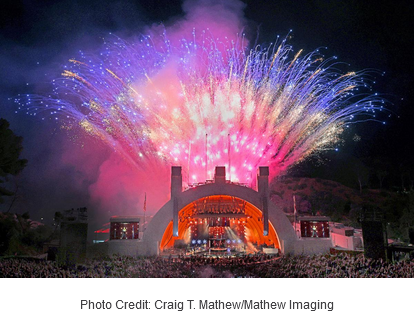 The Hollywood Bowl opening night concert was co-chaired by Greg A. Adams; Lisa Field; Robyn Field and Anthony O'Carroll; Teena Hostovich, Doug Martinet and Michael Martinet; Stasia and Michael Washington. Title sponsor Kaiser Permanente national leaders in attendance included Greg A. Adams (LA Phil board member and Kaiser Permanente CEO), Vanessa M. Benavides (senior vice president, Chief Legal Officer), and Michelle Gaskill-Hames (interim regional president, Southern California and Hawaii). Special thanks to our Centennial Leaders R. Martin Chavez, Lisa Field and Robyn Field.
Additional sponsors include Premiere Sponsor, City National Bank; Muse Sponsors Amazon and Live Nation Hewitt Silva; Symphonic Sponsor, Tracy Anderson; and wine sponsor WINC.
# # #
About the LA Phil
Under the leadership of Music & Artistic Director Gustavo Dudamel, the LA Phil offers live performances, media initiatives and learning programs that inspire and strengthen communities in Los Angeles and beyond. The Los Angeles Philharmonic orchestra is the foundation of the LA Phil's offerings, which also include a multi-genre, multidisciplinary presenting program and such youth development programs as YOLA (Youth Orchestra Los Angeles). Performances are offered on three historic stages—Walt Disney Concert Hall, the Hollywood Bowl, The Ford—and Beckmen YOLA Center—as well as through a variety of media platforms. In all its endeavors, the LA Phil seeks to enrich the lives of individuals and communities through musical, artistic and learning experiences that resonate in our world today.
About the Hollywood Bowl
One of the largest natural amphitheaters in the world, with a seating capacity of nearly 18,000, the Hollywood Bowl has been the summer home of the Los Angeles Philharmonic since its official opening in 1922 and plays host to the finest artists from all genres of music, offering something for everyone. It remains one of the best deals anywhere in Los Angeles; to this day, $1 buys a seat at the top of the Bowl for many classical and jazz performances. In February 2023 the venue was named the Outdoor Concert Venue of the Year at the 34th Annual Pollstar Awards, an honor bestowed 15 previous times. The Hollywood Bowl was also named Amphitheater of the Decade at the 32nd Annual Pollstar Awards as well as Top Amphitheater at the 2017 and 2018 Billboard Touring Awards. For millions of music lovers across Southern California, the Hollywood Bowl is synonymous with summer. hollywoodbowl.com